Silke's story - Lena and Lukas
1. My husband and I came to Munich in 1993 after we married. We were both pre-school teachers and had worked 5 years with disabled children. My education and training taught me a little about preterm infants - in general I can say that I thought that most preterm infants were disabled. In 1996 I became pregnant with twins and after a first shock we were extremely happy and were looking forward of our future with two lovely children. But from the first day my pregnancy was difficult. I felt always tired and had a lot of water retention. My gynecologist told me that this would be normal with a multiple pregnancy and I should drink herbal tea. We trusted him and at this time in Germany there was not much information for pregnant women
2. After week 24 I felt worse and asked for a general check-up. After the diagnosis of HELP-Syndrome I was admitted as an emergency, and after four days we were told our twins needed to be delivered at 25 weeks gestation.  Within half an hour we had to made a decision about our twins: 50 % they will survive and 50 % they will die. From the 50% of surviving there is a risk of 80% that they will be disabled and the clear question was: "What do you want?" Finally my husband was faced with another question: Do you want the children or your wife .... we do not know if either of them will survive! My husband sat for more than 4 hours without any information. I was not informed about my situation, but I saw tears in the eyes of my parents and my husband. So I knew that something must be wrong with me as well.
3. On February 17,1997 Lena (290 g) and Lukas (515 g) were born and admitted to the NICU. I also was very unwell and was admitted to ITU for 4 days with fluid on my lungs. I only saw my children on photos after 2 days. The only person who congratulated me on our babies was the nurse in my Intensive Care Unit two days after delivery. She woke me up and said: "Congratulations for your twins." I will never forget this because nobody else had congratulated us. The first days my husband had an unbelievable job. He had to move from one unit to the other and it was not clear if or how we would survive. Nobody was there for him, just the information that 'anything can happen'.
After 4 days I left ITU and went onto the postnatal ward close to the NICU, but I couldn't walk because of my large caesarean section wound. Also, I did not want to stay on a normal postnatal ward. To see every day the happy mothers with their normal babies was too much stress for me
4. On the 4th day I saw my children for the first time. I cannot explain how nervous I was. Everybody tried to prepare me for the shocking picture of our babies. I had no idea what they meant, but as soon as I saw Lena I knew what they were meaning. Lukas was small but had a nice colour, but Lena had high frequency ventilation and she was so extremely small with a weight of 290 g. She was covered in bruises because of the treatment with infusions. I cried and wanted them to stop the treatment at once. I was totally shocked and they brought me out of the NICU. But again I was not offered any psychological support! Neonatologists and nurses did their best at this time and I am very grateful for this, but it was unbelievable that we got no support in such a nightmare and traumatic situation
5. After 6 days I dreamt in the night that Lena died and I prepared the burial. I woke up and knew something was happening with Lena. On this morning the head of the NICU came into my room and told me that Lena had a brain hemorrhage and she will die today. I should organize that my family come and I should  come at once to be with her. Lena died on that afternoon in my arms with a small smile on her face. A friend said later: An angel picked her up that's why she was smiling. Even now, this sentence was so helpful for me! In this situation my husband and my parents as well as other family were with me. My sister in law made photos from this day. This and the musical doll box is the only memory we really have from her except the Polaroid photo from the first day. I am so grateful for this memory! A pastor came and made the emergency baptism and the head of the NICU and the nurses were with us. Some important things I missed at this time was to give her a bath, to wear clothes we had chosen, and to take her to the pathology department. After one week we had the burial with a white balloon that goes to the heaven and a gravestone with a painting from her musical doll box.
6. The real surprise for us was that Lukas was getting better and better. It looks that Lena gave him her power. But in our hearts our big worry was that Lukas would not survive either. We visited Lukas every day and I stayed the whole day in the NICU, but sometimes I spent the whole day crying. When other babies had problems or Lukas had an infection I became extremely anxious. One day a nurse said I should stop my crying or she will not allow me to visit my son. Some days later I came to the NICU and heard that Lukas was 'kangarooing' (kangaroo - skin-to-skin care) the first time with a nurse at night, because he was crying. Finally I came to the NICU and Lukas had a fresh diaper and I was not able to do it. Changing the diaper was for me the highlight of the day, so I was so disappointed and could not believe that the nurses did all these things without the respect of us as parents.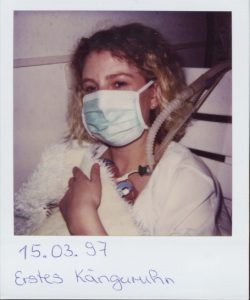 7. After all of this things I spoke with the head of the unit that I wanted every day to see and touch Lukas and that Lukas is our baby and that we hope that they can change this. She was so shocked about my feelings that she discussed such treatments and care with her team and then it became better for us. Nevertheless we never received psychological support. When Lukas moved from the NICU to the local neonatal unit (SCBU) we had to start again with all these communication disasters. Lukas was in a three bed room with mixed twins and no one appeared to understand our feelings. I was told I should be happy that Lena died because she would be disabled if she had survived.
8. At this time I was not aware and I did not hear anything about developmental care but now I understand of course more why Lukas had so many problems after discharge and still has problems today. On the NICU and also later in the baby unit there was continuous music from the radio, it was always bright (with lights) and noisy. There was no such things as family-centered care or NIDCAP. Lukas still has problems, i think because he was spent so much time just lying on one side.
Before and after discharge Lukas had small hernia surgeries, but finally no other big problems. At home Lukas did not eat and sleep and we were stressed because of the long time spent in hospital, and the traumatic experiences with Lena and Lukas. My husband and I became ill and depressed and we saw that Lukas' development did not appear healthy. He did not start to crawl and walk and he was smaller than others. He did not eat really until he was five years old and we were so extremely stressed. After therapy we realized these were not medical problems, but  psychological
9. We had very deep interactivity problems, because of our unprocessed feelings. It was a circle of stress and we received no support from anybody except my parents, although at this time they were both working. The medical check-ups were normal and they told us: everything should be fine and preemies just need a bit more time. We should have more patience. We were lucky that we were both pre-school teachers and we knew that we needed a second opinion. We asked a friend of us, a specialist in physiotherapy. She was so shocked about Lukas' development that she referred us immediately to an orthopedic specialist and the result was shattering. Both of Lukas hips were at high risk of dislocating and we have just a few weeks for a surgery. He needed immediate physiotherapy and it wasn't clear if he will learn to walk, but that his brain looks to have developed well
10. The second traumatic situation for the whole family was around Lukas' hip surgery. Once more we were in a unit without any understanding of our traumatic situation. Lukas did not get many pain drugs and cried all day and night. Without any psychological support we stayed 3 months in the hospital and 6 months at home with a cast from his chest down to his feet. I was totally depressed around this time and Lukas fled in a dream world. He was not Lukas anymore. He was Captain Hook, a fire fighter, a pirate or any other figures who are strong and powerful. When we said his name he did not react.
11. The situation changed when Lukas started to walk and started riding therapy. All these years I felt I was the co-therapist and not Lukas mother. I discussed this in a self-help-group and we give this feeling a special title: A stolen pregnancy and a stolen motherhood. Today I can say I miss the time to be a normal mother and having the opportunity to enjoy the first years with my son. During our time in hospital and afterwards, I was faced with the non-existence of support of any kind, the absence of public awareness and the lack of information and education for parents during pregnancy. I felt that no parents should ever undergo such awful experience. Therefore, in 1999, I decided to actively participate in the Munich-based local parent group, which I headed from 2001 on. Two years later, I became Chairwoman of the German umbrella organisation "The preterm born child e. V.". Together with experts, I developed declarations, guidelines and information material for parents with preterm children.
12. The situation throughout much of Europe is distressingly similar and preterm children urgently need a voice not only within Europe – but also worldwide. So I decided to give up my job as a pre-school teacher and to assume chair functions in EFCNI (European Foundation for Care of the Newborn infant). I founded the foundation in 2008 together with experts and stakeholders.
Lukas, meanwhile, is 19 years old and a beautiful and nice young man. In July 2016 he successfully finalized his A-Level and wants to study to be a communication scientist. His dream is working in the future for the soccer team "Borussia Dortmund" as a press spokesman or in the marketing team. He goes daily to the gym, loves music and reading. The challenge for us as parents was to fight every single day for his right to grow up as a normal boy or young man. We mainly struggled with the understanding and knowledge of people in school systems or administration of institutions. On the other side we met people who were open to help and willing to learn about the challenges of preterm infants and the consequences in their development or the speciality of us as parents. It is important not only to support preterm infants to survive – it is important to help them and their families after discharge as well. Kindergarden, day-care and school systems are not prepared for the needs of former preterm infants and their families. Not all parents have the opportunity or power to fight for the rights of their children or live in a country or region where this is possible.